An Etee Food Wrap is available to buy at huge discount price! Try my exclusive coupon code to seal the deal.
Etee Wrap is the best alternative to harmful plastic bags. It is 100% organic, biodegrable and reusable food wraps. You just need to warm them in your hands to wrap it around bowls, nuts, sandwiches, cheese and cooked meats. The food wrap will stick to themselves and creates healthy seal. According to the latest research; the plastic contains harmful components such as phthalate and BPA. It can leads to some serious health issues.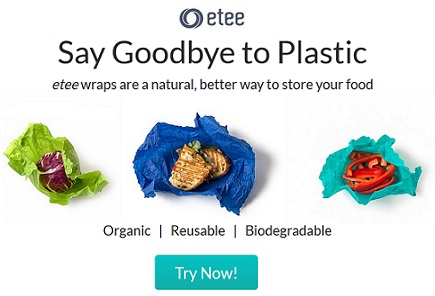 Etee is the leading foo Wrap brand that keeps your food fresh. One of the best thing about it is that you can use it again and again. If it gets dirty; simply rinse in a cool water and clean with soft sponge to use it again. You cannot use it for microwave; however It can be stored in freezer but not for more than a month. If you are looking for healthy an natural way to store your food; then ShopEtee.com is the only solution.
Top rated Etee Wrap Coupons and Codes
Save 10% (Most Popular) – Go ahead and follow this link to order 3 sets at 10% off the regular price. You will pay $16/set only.
20% Off – It is the lowest price deal. Now you can purchase a pack of 6 sets at $14 each set only. Regular price is $18/set.
Free Shipping – Regardless of your order amount or quantity; get an entire US or Canadian order at free standard shipping.
Giveaways and Contests – From time to time, Etee host sweepstakes on their Facebook page. You can participant for a chance to win free wraps and other bonuses.
Does a Food Wrap Really Works?
An Etee is the Toronto, Canada based foo wrap brand; which was started couple of years back to provide healthy alternative to plastic. It is plastic-free and still easily preserve your food naturally. So why should we use harmful plastic that release chemicals into our food? It's time to switch to beeswax wrap that can be fully biodegratable. It is made up from the years of research and can keep food as fresh as plastic wrap. You might be wondering; why to buy Etee over others? Please read below reasons for same:
It is made up from USDA organic Beeswax, cinnamon, jojoba and clove essential oil.
Uses GOTS certified organic cotton. All the ingredients are infused in a blend if cotton and hemp.
Use them, wrap them and if you don't like then return it back for full refund. Yes, you can try it risk-free for 90 days.
They uses Eco-friendly and non-toxic dyes that is free from heavy metals.
It is durable, washable and reusable up to 150 times. How long will it last that totally depends how intensively and how often you use them.
Contains all natural non-gmp soy wax and ingredients. So that you can fully biodegrade it.
Packages and Pricing
There are three packages available for the buyers of Etee – A Starter, Smart and Family Pack. The Starter pack contains a single set of wraps and cost you $18 only. The price of Smart Pack is $48 only. It contains 3 sets. The Family Pack contains 6 sets of wrap and cost you $14/set only. Each set contains three different size food wrap. As of now; there isn't any working Etee coupon code. However you can still save up to 20% off when you buy in a bulk. Please make sure to order family pack to apply our exclusive promo code automatically to your cart.
Both Smart and Family pack comes with a free shipping. On a positive note, you can stack above promotion with this shipping offer to save max out of it.
Originally posted 2018-10-02 10:08:26.