Logo Package Express is available to buy at 10% discount. Redeem an exclusive coupon code now!
Logo Package Express Extension is the powerful software that creates, exports and sort hundreds of logo files within 5 minutes. Being a designer; we know that packaging logo files manually is boring and time consuming method. In fact; it needs your complete attention. Otherwise, the chances are high that you make mistake here and it create bad impact your client. If you want to do this task hassle-free and quickly; then here is the tool.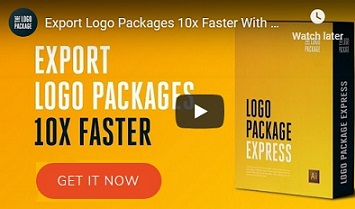 Logo Package Express is the Adobe Illustrator extension that automatically convert a single logo into more than 200 logo files. Most importantly; all your logo files will be exported into easy to navigate folder with catchy file names. You just need to send that file output logo package to clients. As you know that; exporting logo files is like a data entry work. It takes lot of time and attention too. Fortunately; now you can speed up that process by up to 10x faster with the the help of the LogoPackageExpress platform.
Top rated Logo Package Express Coupons and Codes
BHAVIN10 (Most Popular!) – It is an exclusive offer that you cannot find anywhere else. Follow the link to enjoy whopping 10% discount on your total order. Get it for $89 only; regular price is $99. Your code and discount will be automatically applied to the cart.
HOME (Black Friday/Cyber Monday Deal) – The world is pretty crazy right now huh? I hope you're doing well. Please utilize this code to save 33% off. It is valid until April, 2020.
Free Stuff (Ongoing Promotion!) – For a limited time only; you can download a logo package file format cheat sheet for free. They also provide logo pack production checklist for free. Apart from these two; you can also download logo pack folder organization structure and logo pack export templates for 100% free. You don't have to purchase any premium pack for same. It is a complementary free stuff to anybody; even if you are not a customer.
Is It The Best and Safe Logo Exporter?
The Logo Package Express is the Chicago, IL based startup. It was developed by Michael Bruny-Groth to ease the logo exporting process. Creating and saving logo files for your client is boring and complex method. You need the knowledge which exact format does your client need; then you have to export and sort it manually one by one. Imagine; if you are serving dozens of client per day; then how much time will it require! Now you can export all the required logo files in correct format with the help of the logo extension. It requires Adobe Illustrator CC 2018 or higher and available on Windows and Mac.
Why should you choose Logo Package Express extension?
It automatically produces easy to use folder structure for your logo pack. No any error, sorting or naming.
Make logo packages 10x faster; you can save precious time.
Coverts logo into multiple color gamuts such as RGB, CMYK and Pantone.
It supports various color schemes such as Full Color, One Color, Reverse, Grayscale and Inverted.
You have full flexibility to choose final file formats such as EPS, SVG, JPG, PDF, PNG and AI.
Export all the logo components (logo + tagline, tagline, logo, logotype, logo mark, logotype + tagline) at one time.
Plans and Pricing
There is only one subscription option available for an user of the Logo Package Express. All you need to select your operating system to buy an extension. It cost $99 only. It is a one time payment only. There is no any recurring charge to maintain your license key. A single license is valid for two machines. The installation process is simple and fast too.
If price is the main concern; then you should try our exclusive Logo Package Express coupon code. It saves instant 10% off and reduce your cart value to $89 only. A promo code is not valid for your previous purchase.